For embroiderers who do not need any sewing functions, the Brother PE800 is a little, modest, and affordable computerized embroidery machine. It has 138 built-in patterns, and the USB connectivity removes all limitations which embroidery machines like this come with.
Just download your favorite patterns and send them to the machine. Just like the Brother SE1900, it has a five by seven hoop with a large LCD touchscreen. In this Brother PE800 review, we'll review all the machine features, telling you where it offers excellent performance for embroiderers and how it could have been better designed.
This product's also been included into these rankings:
Specifications
Embroidery field
5 x 7 inches
Screen
LCD (color, 3.2 inches)
Dimensions
17.13 x 7.91 x 11.49 inches
Brother SPE800 Embroidery Machine Review
The Brother PE 800 is an embroidery machine with some of the great features you see on the top-of-the-line machines. But you're not going to pay a top-of-the-line price for this machine. You can modify your patterns by rotating them, creating a mirror image, decreasing or increasing the size. You have 11 fonts, which include serif, sans serif, script, and outline fonts. This is the best model for beginners in embroidery, as it offers the best value for money and functionality. In this section, we'll review the machine thoroughly and show you all its key features.
Overall Embroidery Performance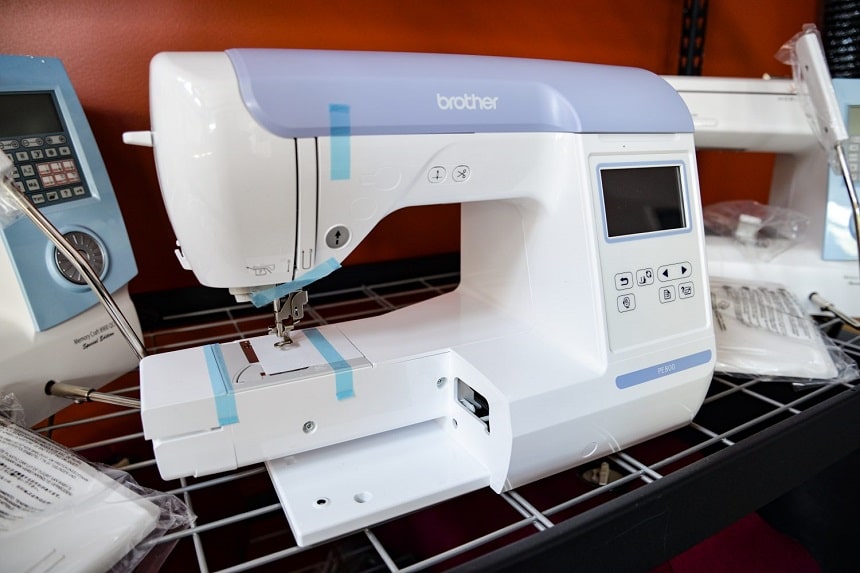 The Brother PE800 has a built-in needle threader, making it super easy to thread the machine up, the same as the bobbin. The device has the top drop-in bobbin system on it. And everything is channeled about in a bobbin case on the machine.
You will have a top winding bobbin. If you don't want to use pre-winds, you can roll your own quickly on the machine. It does have a built-in scissor that you can use to snip the thread bobbin in the top thread anytime that you want to.
You can raise your needle position anytime that you want to. A significant thing about this machine is the way the hoops attached to the machine have a grommet system that will lock the hoop in place.
So, once you have the hoop on your embroidery unit, it will not pop off. If you want, you can have a USB port on the side, and you can go to the computer and download designs as long as you're in the Brother format and as long as they're less than 5 inches by 7 inches in size.
If you want, you could change the floral pattern on the computerized machine. You can move the design, resize the design, and rotate the design.
One of the nice things about the PE 800 that you do not see it on the previous models, which is a huge feature is that it has an edit mode. What an edit mode does is it keeps you away from having to go to the computer by software to combine designs within the same hoop.
It isn't easy on previous models to pull a design up and then try to measure off spacing so you can put a name underneath it.
Well, now, Brother is taking all that worry out by adding the edit mode. You generally do not find this in models that even costs several thousands of dollars. But you will see this on the PE 800.
So, to access the edit mode, all you need to do first is pick the design that you want to work with and then hit set. Now, you can move the design within the hoop.
Another nice thing about the PE 800 is you can do everything you want to do when it comes to embroidery. There are different paths everybody wants to go down, and there are all kinds of optional accessories you can get for the machine to be able to do that.
There are different sized hoops available right now. There are four hoops, and there's a cap hoop to let you do designs on baseball caps.
When you get ready to do other embroideries, there are several software programs you can get to create your designs from scratch.  Whatever your mind can conceive of, which you can fit into the hoop, you're going to be able to do it with this machine.
The embroidery machine is a modern machine that will be perfect for beginners in the art of fashion designing and embroidery. It ensures you can save your patterns directly into your smartphones or computer and directly share them out.
However, the major downside with this machine is that it is an embroidery machine alone. That is, unlike many other models from Brother, this model cannot be used for quilting or sewing. It's simply an embroidery-only machine. So, you may want to look elsewhere if you're looking for a more versatile embroidery machine that sews and maybe quilts too.
The SE600 Computerized Sewing and Embroidery Machine is one of the several models from Brother who have the combined functions of sewing and embroidering.
However, the embroidery-only design of the Brother PE800 ensures it's built to focus on the necessities, creativity, and practicality of embroidery.
Ease of Use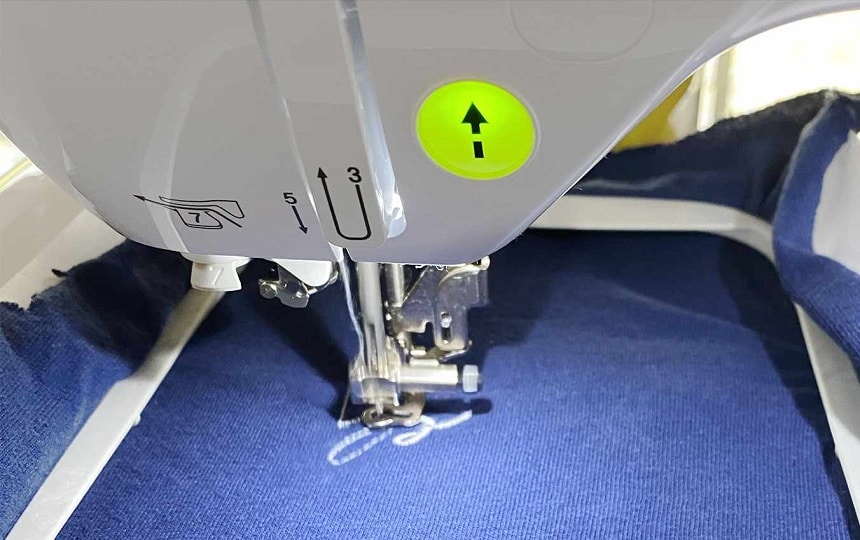 When you're ready to embroider, everything is really simple to handle, even for first-timers. You can use larger spools of thread. Everything is channeled down to the needle as far as threading goes.
Using this embroidery machine is a piece of cake. All you need is to read the instruction manual, and you can be good to go.
However, don't expect a lot of support from Brother. Many users report that the customer support keeps referring them back to the manual in the case of issues, even when this will not help. You will be on your own if the solutions to problems encountered are not in the manual.
However, the Brother machine is still very simple to use and easy to learn. For example, it tells you how many stitches are in the design approximately and how many minutes, and how many color changes you have.
So it makes it really easy and convenient for you to know what is all the time involved with doing a design.
Embroidery Speed
The machine embroiders at a speed of 650 stitches per minute. This isn't a top-running embroidering machine like the more expensive ones. But, it's one of the best from Brothers for people who are looking to get started.
First, you're going to need to wind the bobbin and install the bobbin. You're going to need to thread the top, and there's the need to get our hoop set up before we can do that very first design.
Built-in Patterns, Fonts, and Designs
You have 138 built-in designs to practice with on the machine.  Also, you have 11 built-in fonts to choose from, and there are ten frame designs.
A bobbin thread comes with the embroidery machine. However, the machine doesn't come with an embroidery thread, so you're going to need to buy some embroidery thread.
Also, to be able to use this machine right out of the box, you're going to need to buy some stabilizer.
We would recommend starting with the tearaway stabilizer, especially while you're just practicing it.
Embroidery Area
The PE 800 will do the 5 by 7-inch area. This is the most popular call for design in machine embroidery. So, you're going to be able to do larger names. You can put a name and then another design within the same hoop and have plenty of room to work with
If you want to embroider a Bible verse or poem, for example, you can rotate your design up to 90 degrees. You have 7 by 5 inches of area to work with.
Display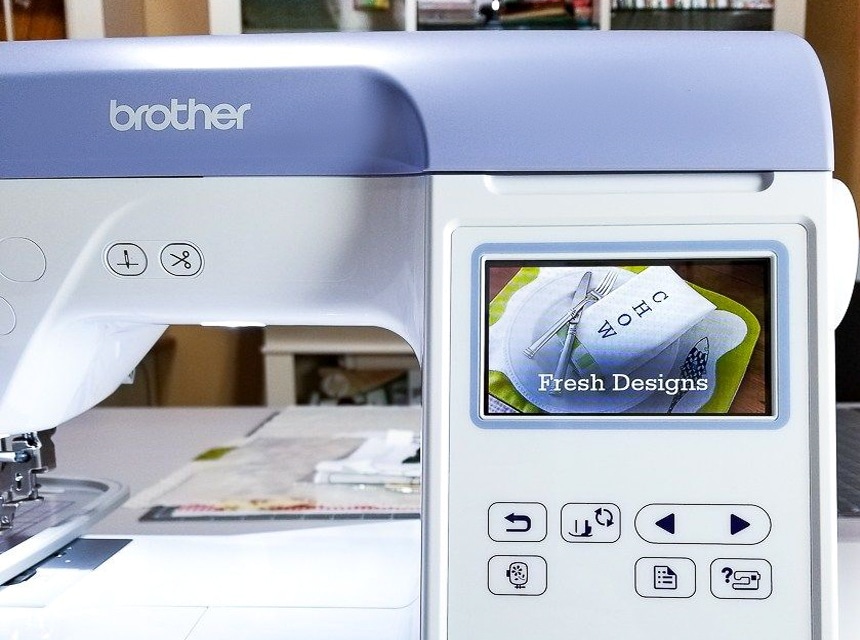 The PE800 has a full-color screen on it. There are over 130 designs built into the machine. Everything's really easy to control. Just push your button, and it's going to pull up in color the design that you want to embroider.
The machine will recognize and tell you what color you are using for a particular design part. So if you want to change the colors to make it look different, you can play with that.
But it will show you what part of the design you're embroidering. So that makes it even more fun to go in and change things up. You can go in on the hard drive of the machine and change savings. You don't have to erase anything on the machine. You can tell the machine what frame you're using.
The Brother PE800 comes with a color palette built in. With this, you can make an on-screen color of your thread. Also, the workspace and the areas around the needle are illuminated. With these LED lights, you will be able to use the machine at night time.
The embroidery machine has a layout that allows you to mirror images, edit, reverse, increase, and decrease the size of the designs, which will be displayed to you directly on the LCD touchscreen before it turns the patterns and designs into permanent stitch work.
USB Connectivity
The PE800 also has a USB port that can be used to import embroidery designs into the machine. The machine has USB connectivity. You'll also want a flash drive or USB flash drive. Now the reason that you'll want a USB drive from the beginning is there are usually updates to your machine.
So by the time you get your machine, there's probably going to be an update to it. So you'll want to update your machine right away.
The Brother PE800 is a computerized machine with a factory built-in memory. This helps you save your favorite designs into your personal computer thanks to the USB port.
You can import your designs from the machine in the memory stick like a memory card or a flash. You can also directly use a USB cable for instantly transferring your files into your digital devices, such as your smartphones.
There are so many patterns that come pre-loaded on this machine, and so when you find one embroidery designs that you find online, you'll need a USB flash drive to transfer those.
Portability
Overall, the machine weighs just 17 pounds. It measures 17.13 inches in total length and 7.91 inches in width, and 11.49 inches in height. What this means is that the embroidery machine isn't so bulky. You can take it with you to your sewing and embroidery classes, and you can choose to have it permanently installed.
Durability and Warranty
Surprisingly, the Brother PE800 is a very durable and versatile embroidery machine if you compare it with other models from Brother and competition brands within the price range. It's very functional and designed modernly with practical features like the LCD touchscreen, the large working space area, and the extra hoops.
However, it is also sturdily built. You can embroider both fabric and thicker materials like leather with a thickness of approximately 1/8 inches maximum.
However, it comes with just one year warranty for the parts, accessory items, and labor. Meanwhile, you have five years warranty on the electric components and the printed circuit boards, as well as 25 years warranty on the chassis.

Key Features
Some of the key features of the Brother PE800 embroidery machine are the following:
The embroidery machine comes with 138 built-in designs, ten frame designs, and 11 different font styles.
The embroidery designs include scrollworks, florals as well as quilt patterns. It has numerous other options that ensures you can flex your creativity muscles.
The built-in fonts include seven English, three Japanese, and one Cyrillic font styles. These are ideal for lettering and monogramming.
The embroidery field size for the Brother PE 800 is 5 by 7. That's a pretty large embroidery field size for a mid-grade embroidery machine.
The embroidery design that you find online often says you have to have a 6 by 10 hoop. That doesn't mean that you can just put on a 6 by 10 hoop, and it will be able to embroider that design.
If you need a 6 by 10 hoop, that means you need a 6 by 10 embroidery field. If you want to get into a bigger embroidery field size, you would be getting into the thousands of dollar embroidery machines.
However, you will still be able to do a ton of things with 5 by 7 inches. This is considered relatively large for you to navigate through the world of embroidery. This is great if you find some machines that are lower in price.
The PE800 has a built-in color LCD with which you can get a preview and edit it. At the same time, you will find a number of tutorials on the LCD monitor, which you can use to get familiar with the PE800. The LCD touchscreen is large and measures 3.2 inches.
With the ability to edit your works and preview them before the finishing stitch is done, the PE800 is a wonderful piece of engineering work.
Possibility with extra hoops
Another feature of the Brother PE800 that you might want to consider are the extra hoops. You can use three sizes of hoops.
You can use the 5 by 7-inch hoop it comes with. You might want to consider getting some extra hoops which is the 4 by 4, and there's the 1½ by 2½.
There's also a 5 by 12-inch size. Now the only time that you'll be able to use a 5 by 12-inch is if you have a special program and you're able to split your design, and you can do it in quadrants.
Price Tag
The Brother PE800, when compared to other models on the market, is a relatively cheap embroidery machine. Excluding the shipping fees, the machine is priced at below $1,000. It is our number one recommended start-up embroidery machine for those who are just looking to get into the business. We recommend this first because it is cheaper; it's not thousands of dollars like many Brother embroidery machines. And you don't want to spend thousands of dollars on a brand-new appliance.
PROS
CONS

Large and touchscreen display
Easy to learn and easy to use
Inexpensive
Large embroidery area
USB connectivity for memory export
Ideal for beginners

It doesn't come with embroidery thread
You can't use it for sewing
Conclusion
With the Brother PE800, keep in mind that you want to buy the machine with one of the biggest embroidery field-size. This little one-needle wonder is a great, budget-friendly embroidery machine. As we've seen in the Brother PE800 review, the embroidery machine has 138 built-in embroidery patterns, 11 built-in fonts, and 10 frame designs.
The embroidery machine is an excellent machine for beginners in embroidery works. But it's not for users who want to enjoy the multifunction of machines with embroidery and sewing functions.