Beginners or hobby sewers don't need a fancy, high-end machine for the small projects that they have in mind. That's why many of them are looking at models like the Brother GX37, which is small, lightweight, and easy to use, even for those who've never sat down at a sewing machine before. If you're not sure if this is the machine for you, check out our Brother GX37 review to see all of the functions and features this model has to offer.
Specifications
Bobbin
Drop-in top bobbin
Components
Six sewing feet, needle set, bobbins, instructional DVD, manual, free arm
Dimensions
17 x 13.9 x 10.3 inches
Warranty
Free technical support via online, live chat, or phone for the life of your machine
Every sewing machine on the market has numerous features that you can use for your various projects, but they aren't all identical to what another machine may have. To learn more about the specific features, the Brother GX37 includes, check out the following sections.
Overall performance and functions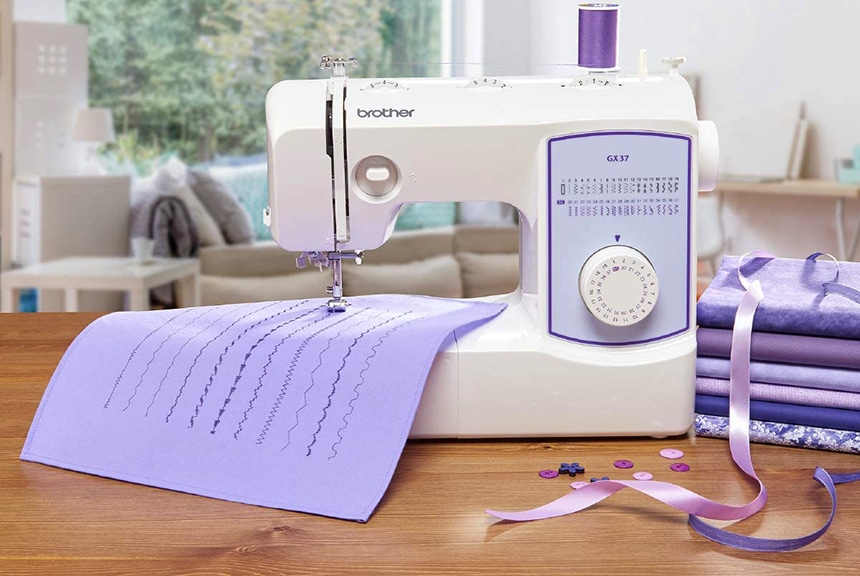 The Brother GX37 isn't a top-of-the-line sewing machine full of advanced features that experienced sewers are looking for. This machine is much more basic, though it is still full-featured, so it still allows a beginner to medium sewers to create some lovely projects. It is also lightweight and compact, making it a great choice for those with limited space or who like to take their sewing machine out of their home.
Despite its size, this machine is still rather durable, so it can handle regular use with ease. It also has a great low price that those on a budget will love. The downside to this machine's size is that it isn't designed for large projects or heavy fabrics, so quilters may want to look elsewhere for a new sewing machine.
Type
The Brother GX37 is an electronic, mechanical sewing machine. This means that it has the basic features of a mechanical model combined with the frills and electronic functions of an electronic machine. This includes varying stitch options and lengths, as well as some decorative extras, all of which use knobs to choose the settings of each option.
This machine also uses a foot pedal to control the sewing function and the speed rather than the handle or treadle plate of a mechanical model. This makes the GX37 much easier to use for those who are just learning to sew.
Speed
This is a variable speed sewing machine, though there is no speed control slider to keep things at a slower pace for those who are just learning to sew. There isn't a knee lifter for the controls, either, so you will be using a foot pedal to control the speed of the sewing needle. This takes some getting used to for beginners, but it shouldn't take too long to get the hang of it. Many users recommend using the foot pedal barefoot for the maximum control possible, at least until you get comfortable with it.
The maximum sewing speed is 850 stitches per minute, so it can go pretty fast if you want it to. Most sewers won't need this type of speed for their projects, but it's nice to know that it can run that fast if needed.
Built-in stitches
There are 37 built-in stitches included with the GX37 sewing machine. These include the more utilitarian stitches, like the straight stitches and the various zigzag options, plus there are many decorative stitches to choose from to add a bit of flair to your designs. There are also stretch and reinforcement stitches available as well, so you should have everything you need to get started with your sewing machine.
There are no complicated controls for altering the stitch you've chosen, either. Instead, there is a single dial that you can turn to pick the stitch you want. There is also a handy numbered stitch guide on the front of the machine to make it even easier to change the stitch, with little chance of making a mistake.
Buttonhole
Making buttonholes can be complicated if you don't have the right tools for the job. Luckily, the Brother GX37 allows you to create those buttonholes with ease, using the automatic one-step buttonhole stitch. Even beginners can make perfect buttonholes the first time.
There is also a buttonhole foot included with the sewing machine, so you don't need to worry about purchasing one separately.
Feet
As well as the buttonhole foot that we described above, this sewing machine comes with a variety of other feet, so you can do almost anything with this machine. First is the zigzag foot that's used for general sewing tasks. There is also a blind stitch foot for blind hems, a button foot to stitch buttons on your clothing, a narrow hem foot for flat thin hems on lightweight materials, and a zipper foot to attach both sides of the zipper onto almost any garment.
The wide assortment of feet that come with this Brother sewing machine gives you almost everything you need to complete all of your projects. This also means you don't need to try to find matching feet for your machine and spend extra time and money purchasing them separately.
Bobbin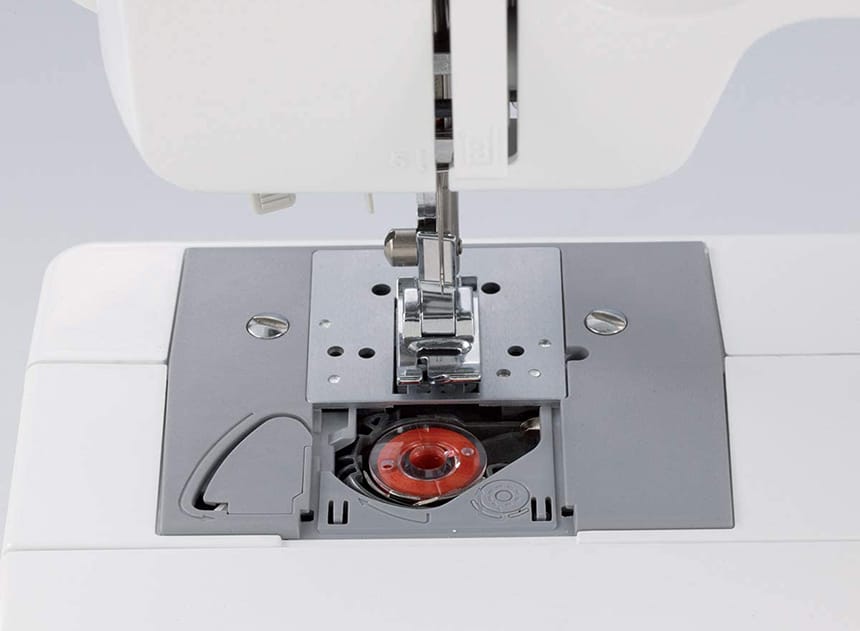 To make this model even easier for inexperienced sewers to use, there is a quick-set drop-in bobbin, which is designed to stay firmly in place to give you the most reliable and even stitches possible, even at higher speeds. There is also a clear-view bobbin cover, which allows you to monitor the amount of thread on the bobbin at all times. This way, you'll never run out of thread in the middle of a project.
Of course, no sewing machine is perfect. There have been some users who find it tricky to insert the bobbin into the bobbin case, though this isn't an issue for everyone. Luckily, for those having difficulty, the Brother website has detailed instructions, as well as a few videos to help you figure this out.
Components
There are a lot of handy components included with this Brother sewing machine. First of all, there is an automatic needle threader, which can be activated using a single lever for easy threading. There are also three dials on the top of the machine that controls the stitch tension, length, and width, so you can adjust these as needed, depending on the project you're working on.
A detachable free arm makes it easy to sew sleeves, cuffs, and smaller items for the little ones in the house. A reverse sewing lever lets you reinforce those stitches when starting or ending a seam, though the lever is hidden and may take some getting used to.
An LED light positioned over the needle keeps your stitching area in full view, though some users find that it isn't bright enough, so a separate lamp near your sewing machine may be needed.
There are also a variety of accessories included with the GX37 that make it easier to start sewing as soon as you unbox your machine. As well as the feet that we already mentioned, there is a 3-piece needle set, a twin needle, an oval screwdriver, a spare spool pin, a darning plate, and four extra bobbins. There is also a soft machine dust cover to keep this sewing machine as clean as possible between uses.
For beginners or those who still need a bit of guidance, there is an instructional DVD, an operating manual, and a Quick Start guide, plus you have free access to Brother's technical support online, via live chat, or by phone whenever you some extra help.
Power source
To power the Brother GX37 sewing machine, all you need is a 110V outlet to plug it into. Some have stated that the power cord isn't as long as they would like, but this all depends on how close your sewing area is to a wall outlet.
Dimensions
The dimensions of the Brother GX37 are 7.5 x 175 x 14.25 inches, which makes this a more compact machine than some of the high-end models on the market. This does limit its functions a bit since this size requires more basic features, but it's still a quality machine that works well for beginner or intermediate sewers. The small size allows you to fit this little machine anywhere you have space for it, plus it is much more portable than many other sewing machines.
Weight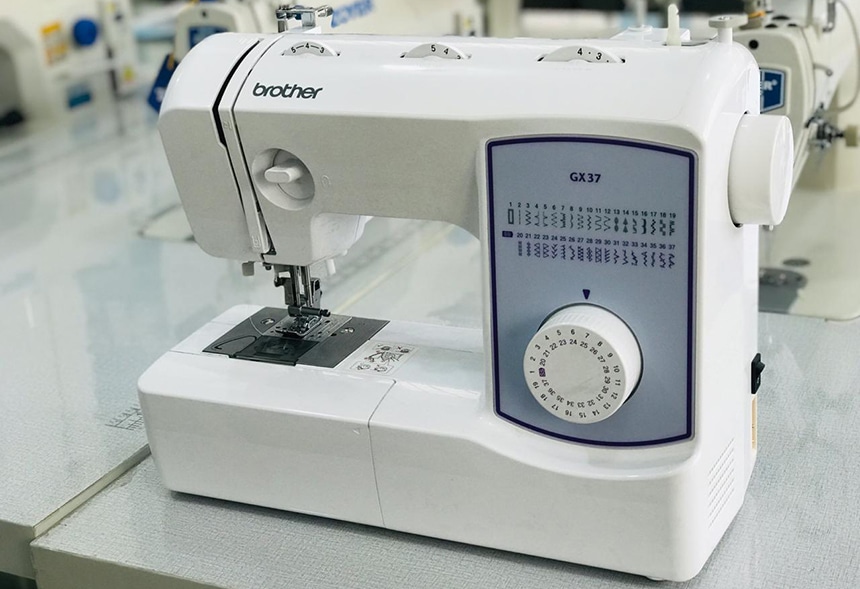 This handy little sewing machine is quite light at 10.14 pounds, making it a great option for those who want a lightweight machine. Not everyone has a dedicated sewing area, so for those transferring their machine from a closet or cupboard to a work area, a lighter machine like the GX37 is a great option. This also makes it a more portable machine than a bulkier model, which is a must for those who like to take their machine to sewing groups or other events outside of their home.
Warranty
One of the most important features of any product is the warranty, especially if it isn't working as it's supposed to. The GX37 has a 1/2/25 year limited warranty. Though this may look confusing, each of those numbers covers a different aspect of the warranty.
There is a 1-year warranty on the parts, labor, and accessories included with this sewing machine. The two stand for a 2-year warranty on all of the electronic components. There is also a 25-year warranty on the chassis casting, which should be the most durable part of the sewing machine and the reason for such a long-term warranty.
PROS

CONS

Beginner-friendly
Reasonable price
Multiple accessories
Free technical support
Great features
Lightweight and compact

LED light isn't very bright
Not for large projects
Tricky to thread at first
Conclusion
This model isn't a high-end, advanced machine, as we've proven in our Brother GX37 review, but this doesn't mean that this little sewing machine doesn't have its place in the sewing world. It is lightweight, compact, and includes a variety of great features and accessories that make this a great option for beginners, as well as intermediate sewers who don't need a fancy machine to complete their various projects. Though there is a bit of a learning curve with a few of the functions, and it can't handle multiple layers of fabric, the GX37 is still a great option worth checking out.