Are you in the market for a high quality computerized sewing machine that will guarantee you several built-in stitching options at crazy sewing speeds? Are you looking for a machine that's easy to use, yet will finish the job with some of the best and most desirable results every time? With the Brother CS6000i, rest assured that you'll be getting a feature-rich sewing machine that stands to meet all your sewing needs at a good price. Having been a popular model for a long time, this detailed review reveals the reasons as to why the Brother CS6000i remains a favorite with both the experienced and beginning sewists. For an informative buying guide, read carefully through this detailed CS6000i Brother review to understand the specs and features that this model offers.
This product's also been included into these rankings:
Specifications
Speed
850 Stitches Per Minute
Dimensions
11.4 x 6.7 x 16.1 inches
Brother CS6000i Review
While this machine might be value-priced, that doesn't mean that it falls short in terms of value. If you happen to come across even a single Brother CS6000i sewing machine review, chances are that a lot of them praise the machine's quick-set top drop-in button that makes setting up and accessing the thread both a simple and time-saving option. Don't waste time trying to hint down your bobbin thread as you'll love the ease and simplicity that accompanies this sewing machine's design. Other additional features that come with the Brother CS6000i include:
Large quilting table
7, 1-step buttonhole options
60 built-in stitches
LCD control panel
Automatic needle threader
Start/stop button for no pedal sewing
Stitch length and width adjustment options
Jam-resistance technology
Tension adjustment
Overall performance
Finding a Brother CS6000i feature-rich sewing machine review that attempts to highlight the performance of this machine is not tasking as such as there are plenty of them. When it comes to the overall performance of this machine, this unit surely provides a lot of benefits. With more than 60 built-in sewing stitches, 7 styles of one-step buttonholes and 9 included presser feet, the performance of the Brother CS6000i is nothing but impressive. With the ability to sew at speeds of up to 850 stitches per minute, this model sews with unimaginable speeds than many similar units. As one of the best machines for sewing, this unit is good for sewing and quilting with the ability to sew with twin needles, meaning that they can quickly and easily create hemlines.
Ease of use
The ease of use of was undoubtedly a pleasant surprise based on our Brother CS6000i computerized sewing machine review. If you are shopping for a sewing machine to meet your sewing needs, at least, you would want to go for a sewing machine that won't be too complicated for you to use. This Brother sewing machine is one of the easiest sewing machines to operate. Even a novice who is completely new to the world of sewing could be up and running with this machine in just a matter of minutes. Its manual is exceptional and has all the information that you need to carry out any task with this machine. Going through the manual, you'll be impressed by the level of detail and straight-forward instructions given. Beginners can sew sleeves and cuffs quick and easily with this machine that comes with a built-in free arm to make such tasks simple.
Sewing speed
As they say, time is money and if you are in the business of sewing, you would highly prefer a sewing machine that sews at higher speeds. When it comes to sewing speeds, the Brother CS6000i is one of the best sewing machines that sew at super crazy speeds. With a maximum sewing speed of 850 stitches per minute, its speed is nothing but outstanding. Of importance to note is while this computerized sewing machine can sew at lightning speeds, such can be adjusted to slow, medium and fast by using the adjustable speed control to select any settings that you prefer. This feature is important, especially if you are working with thicker fabrics or if you encounter some difficulty operating the foot pedal in order to get the required speeds.
Built-in stitches, stitch length and width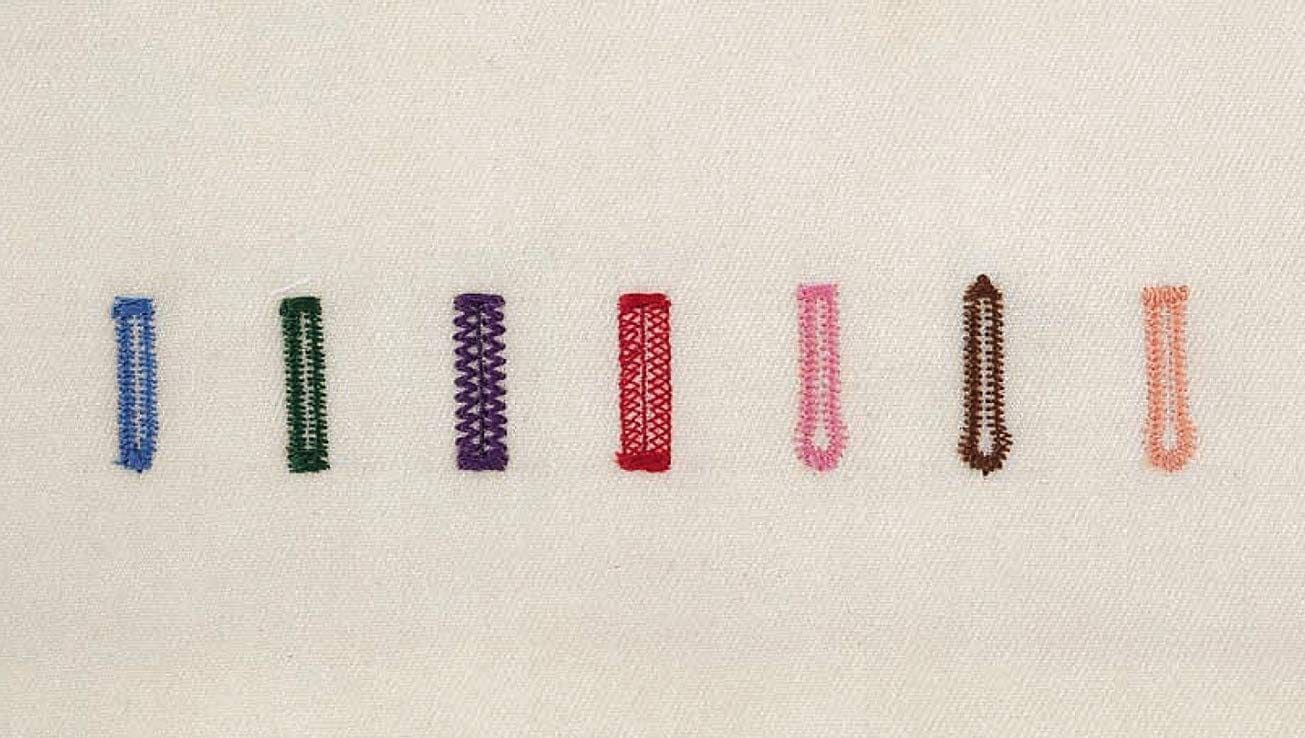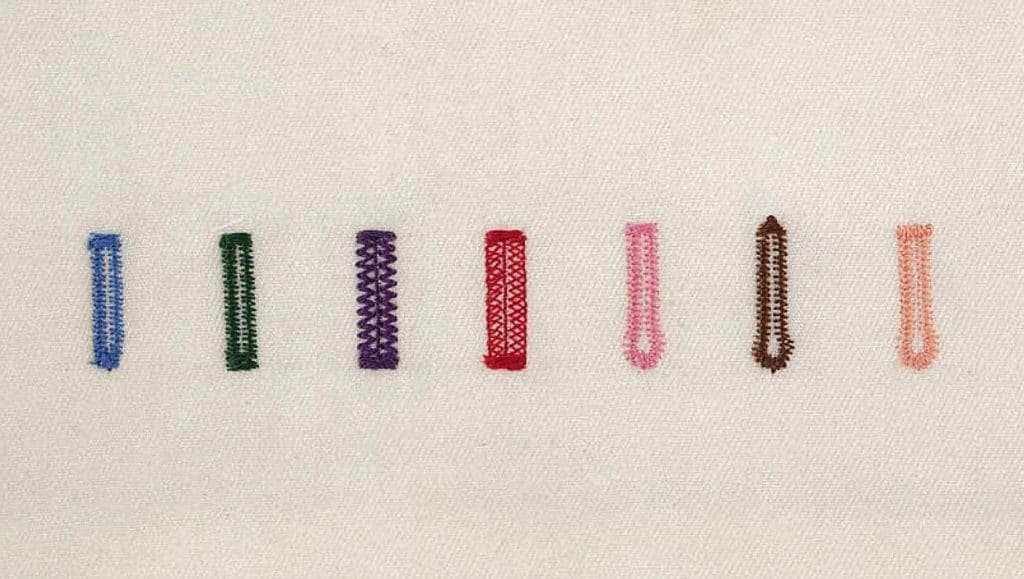 With this computerized sewing machine, you can create, sew and quilt affordably and with a lot of ease as you stand to get a wide range of sewing and quilting features. With the Brother CS 6000i, you have a chance of selecting from 60 built-in sewing stitches such as straight decorative and zigzag in addition to 7 styles of one-step buttonholes and decorative stitches that give you a room to be creative. The maximum stitch length that this sewing machine can handle is 5mm while the maximum stitch width is 7mm. Of importance to note, however is that this computerized sewing machine can automatically adjust the string's width and length. Better yet, you can still change them to fit your preference so that you get the type of stitch you desire for your clothes.
Free arm
If you are in search of an excellent computerized sewing machine with a built-in free arm that will guarantee you effortless sewing –especially sleeves and cuffs–then the Brother CS6000i is the ideal choice for you. With this machine, you can easily sew hems on kids' pants, not forgetting that fact that it makes sewing any small and circular items quick and easy, even if you are a beginner just starting out. Unlike the majority of sewing machines, this sewing machine allows even a novice in the world of sewing to come up with excellent results based on its free arm sewing.
LCD display
The LCD display is another excellent feature that comes with this computerized sewing machine. The LCD display is very important since it allows a user to choose among its 60 included stitches and patterns through an easy push-button touch. The LCD display is an important feature as it lets the user know whether he or she has picked the correct stitch or not. Besides the LCD display showing you which presser foot to use depending on the stitch, you can take comfort and sew with confidence as the LCD displays an error message, especially if you are doing something wrong. In fact, the LCD indicates which presser foot you can use with each stitch, so that you don't keep on referring to the manual, an aspect that can make you waste too much time on a single project.
Lighting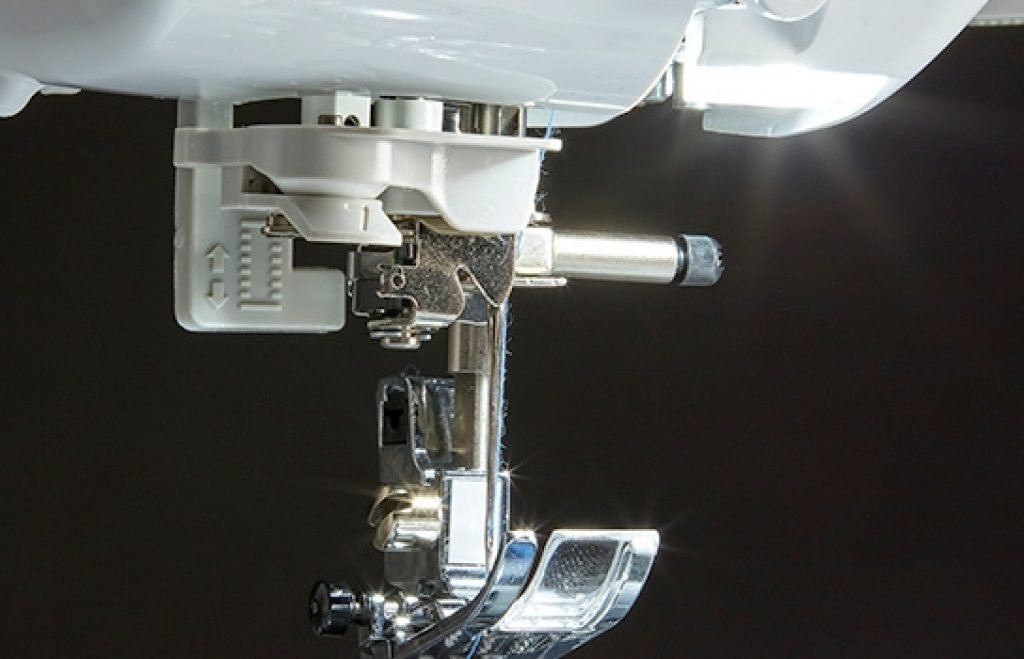 If you are a sewing enthusiast, then you should be able to sew any time of day or night. These days, the majority of sewing machines in the market have some kind of lighting to enable the user view the sewing area better. When shopping for a sewing machine, it is vital to go for those that come with a good lighting system to enable you produce exceptional results. The Brother CS6000i does come with a sewing light, but it is not the brightest – for better illumination, we recommend purchasing an additional LED lamp for your sewing machine.
Dimensions and weight
Storage is an aspect that you need to factor in when shopping for a sewing machine. If storage is an issue, you need to go for a sewing machine with smaller dimensions as opposed to shopping for a large one that will be difficult to store, especially if you are living in a small apartment where space may be a big issue. If possible, go for those with detachable tables that are known to be easy to store – the Brother CS6000i is an example of such a machine, as it comes with a wide table for extra space, should you require it. Besides the dimensions, the weight of your sewing machine really matters. You do not want to go for a heavy sewing machine that's lacks the element of portability. The Brother CS6000i is a very compact and lightweight model that can be taken to sewing classes with ease, as opposed to heavy counterparts that can become cumbersome.
Price
While out there in the market for sewing machine, among other things that you need to keep at the back of your mind is the price. If anything, you need to get a sewing machine you can for what you are ready to spend. This doesn't mean that you have to go for a sewing machine with the most whistle and bells but one that's made with quality parts. You need to shop for a sewing machine that won't break on you in a matter of weeks and not be worth repairing. To be on the safe side, consider an investment like a good home. The discrepancy in price can be somehow substantial. Just like a lot of things in life, you normally get what you pay for. Before making any purchase, think carefully about any financial constraints. Are on a tight budget and starting out? If so, your view of the price will be different than those of established sewists out there already running their own business entities with years of experience under their belt.
In general, the more you pay for your sewing machine, the more you stand to get from it in return.
The Brother CS6000i seems to combine the best of both worlds – it is an affordable machine, but also reliable and suitable for a wide variety of sewing jobs. It might not be the most heavy-duty model on the market, but you are most certainly getting more than what you pay for with this machine.
Key features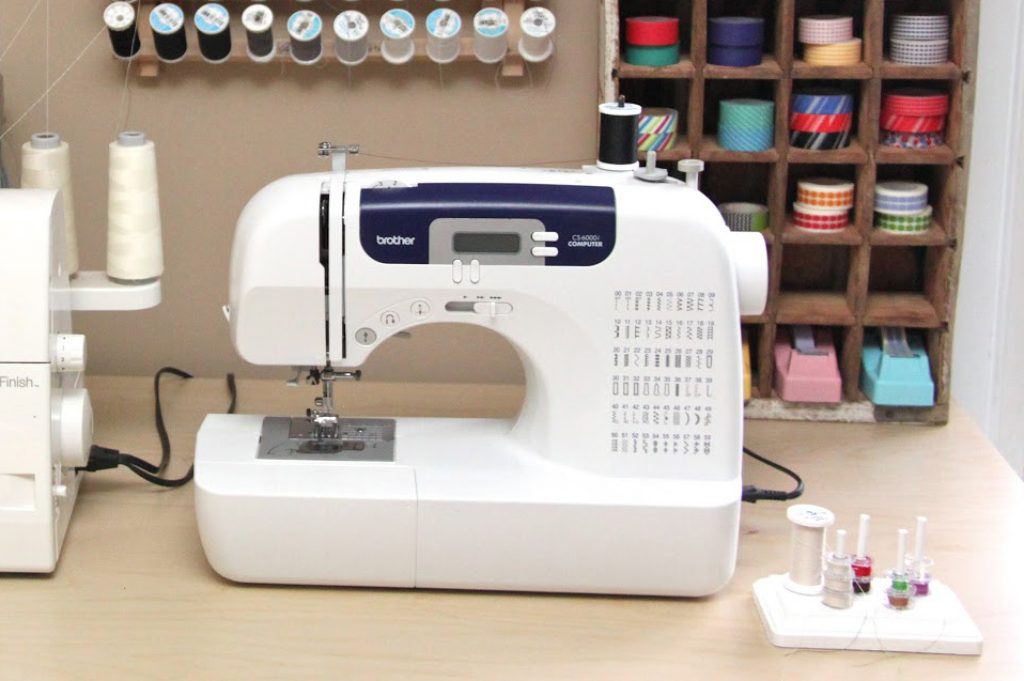 Even the most basic sewing machine out there should be able to easily sew a variety of fabrics, from corduroy, denim and satin, without puckering or stretching the fabric or producing loose and loopy stitches. Some of the most important key features to consider include:

Automatic Buttonholer – with this feature in place, you can easily sew a button in one step without the need to stop and constantly manipulate a dial or turn the fabric.
Feed-Dog Adjustment – this is an excellent feature that allows you to drop the toothy mechanisms below the sewing surface so that you can easily do free-style darning or embroidery.
Needle position- this is an excellent feature that gives you the room to move the stitching line and needle from left to right in addition to having the needle up and down in the event that you stop.
Needle threader – this one pulls the thread through the eye of the needle and significantly saves you from squinting and other sewing frustrations.
Speed control – this is an excellent feature that determines the pace at which the fabric gets fed into the machine to enable you sew at a comfortable steady speed as opposed to constantly stopping and starting.
Large quilting table – a large quilting table enables you to handle projects of any dimensions easily in addition to giving you an ample space to spread your fabric for easy sewing.
Jam-resistance technology – this machine is jam resistant, meaning that you won't be stuck wondering on how to go about fixing your machine, an aspect that enables you to complete a lot of projects within a short time.
Tension adjustment – with this machine, you won't have to worry about changing how tight the thread is since it can adjust itself if the thread is too loose and avoid producing loopy stitches.
PROS
CONS

Ease-of-use from the threading system to using its controls and you can sew easily through several fabrics
It comes with an oversized sewing table / working area
Besides being a workhorse, this computerized sewing machine comes with an unbelievably low price
There are many accessories that accompany this sewing machine such as a walking foot, zipper foot, buttonhole foot, spring action quilting foot, button-fitting foot and easy-to-view LCD display. Others include 60 built-in stitches, free lifetime phone support and an automatic needle threader

It may not work quite well with thinner fabric while too many layers could be a bit heavier and require more stability
It feels more flimsy than other heavy-duty models in the market
Sewing at fast speeds may make the thread to pop off, an aspect that can cause some inconvenience