The Brother CS5055 sewing machine is one of the most popular machines sold today. It is a best seller because it is a budget-friendly machine and one that every beginner can easily operate. Setting up this sewing machine is quite easy, and the design is very modern. The computerized sewing machine gets the job done easily and is certainly a great buy. Although it is not a heavy-duty sewing machine, it still comes in handy to sew thick leather fabrics and even some layers of denim.
In this cs5055 review, we will show you everything you need to know about this amazing sewing machine. Its features, specifications and why we think it is worth buying. Read on to find out more!
Specifications
Buttonhole
1-step auto-size
Components
a needle set, a trilingual English/Spanish/French user manual
Dimensions
16.26 x 6.65 x 12.21 inches
Warranty
25 years limited, free phone and technical support for the life of the product
Brother cs5055 Review
We will talk about the features of the Brother cs5055 sewing machine. One thing you should know, however, is that the Brother brand is a very reputable company. They are known to make high-quality sewing machines that are used by professionals in the fashion industry today. However, this Brother cs5055 sewing machine is a starting point for beginners and will help them find their way around a sewing machine. You can easily learn the basics of sewing using this simple sewing machine. It has enough accessories to put you through, and most importantly, its set-up is easy. The reason most people prefer this sewing machine is that it is affordable and portable. Considering its price, it does a lot of work compared to other sewing machine types within this grade.
Overall Performance and Functions
This computerized sewing machine will serve you well. It is very convenient to use, and you can access all its functions on the LCD screen. All the buttons are easy to read as they are marked. Navigating around the machine won't be a problem. Everything is written on it, from the stitch type to the length, width selections, and other functions. The overall performance of this machine is great.
You can use it to make your decorations, mend clothes and do light sewing. Since it isn't a heavy-duty sewing machine, its work is, however, limited.
The sewing machine is great for those learning the curves of sewing. Most professionals may not find it convenient to use this sewing machine for their jobs, but it can still come in handy for simple sewing tasks.
Type
The price of this sewing machine is unbelievable considering the amazing features it comes with. The Brother cs5055 is a computerized sewing machine that is very affordable. It can carry out some difficult tasks even though it isn't a heavy-duty machine. The computerized features include computer memory and some other pre-programmed functions. The sewing machine takes away the stress associated with working on manual sewing machines. You also don't have to worry about guesswork when thinking of stitches. It comes with a memory function that calculates or measures the exact length of stitches needed for your fabric. It also measures the accurate degree of tightness of the stitches. As a beginner, you won't have to be burdened with measurements when you have this sewing machine with you.
Its computerized function also includes pre-programmed stitches readily available for your projects. It also makes it easy to attach zippers and buttons to fabrics. There are many benefits to using a computerized sewing machine like the Brother cs5055 sewing machine.
Speed
Looking at the speed of this machine, the Brother CS5055 has a stitching speed of about 850 stitches per minute. The low speed is almost silent, which is great because you can work quietly. You can use this sewing machine in a room where your kids are asleep without waking them up. It also makes your sewing job done quickly when compared to other sewing machines within this range. It may not work as fast when sewing thick fabrics, and it can only sew a few thick fabrics because it is not built to take on heavy tasks.
Built-In Stitches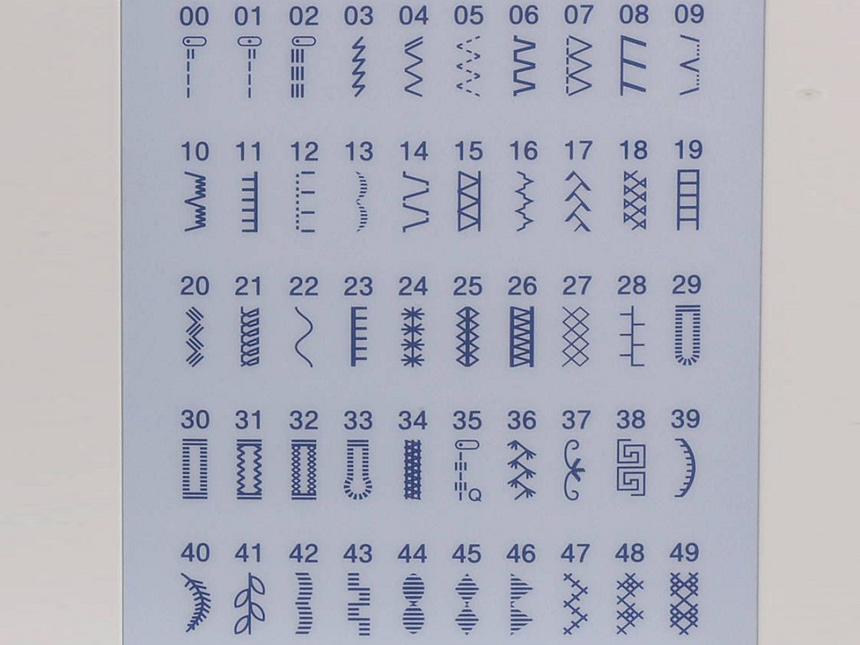 The CS5055 comes with 50 built-in stitches, which can do multiple stitches. Everything about this sewing machine is computerized. You can easily select the stitch type you want, and the machine will get to work. Each of the stitches can also be adjusted depending on what length or width you want it. You can also use it to get different designs and sew in different positions, whether left, right, or center.
Buttonhole
The CS5055 sewing machine is designed with five one-step custom-sized buttonholes, which you can use for your sewing projects. You can create any buttonhole design you want. You can do a custom coat using couture detailing or even make a cover for your pillow. It is usually ideal for making removable pillow covers or even chair covers if you have pets or little kids.
Feet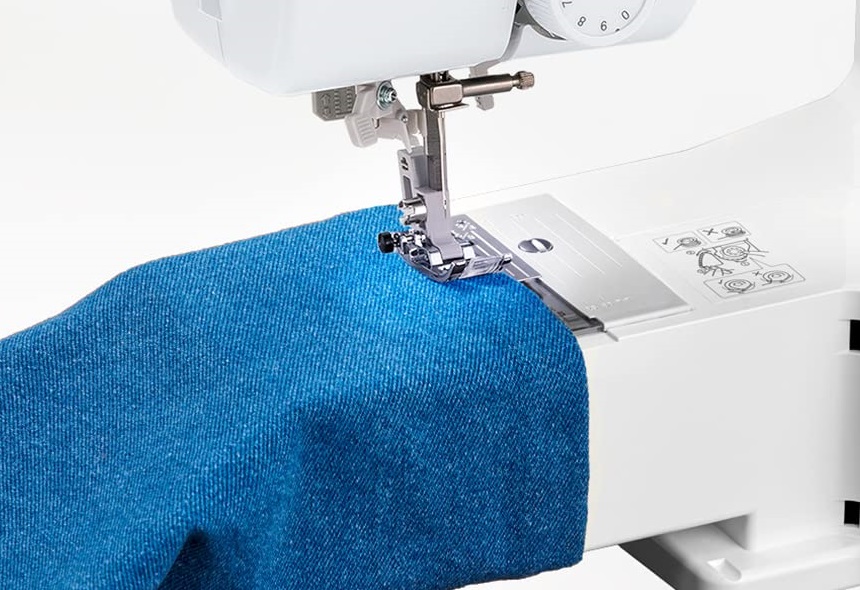 This Brother sewing machine also comes with a presser foot that allows you to sew even better. You can use the presser foot to do monogramming, blind stitch, zipper, buttonhole, button, and overcasting. You can conveniently use the presser foot to work and enjoy a reasonable amount of speed.
Bobbin
The bobbin winder that comes with this Brother sewing machine can be found at the top of the machine. It is a fast winder, and all you need is to drop it in place. It is more convenient to use than when you have a bobbin that should be placed in a case and one which is quite difficult to get into the sewing machine.
Components
The CS5055 comes with many amazing features. The fact that it is computerized makes things simplistic and easy to use. When you buy this sewing machine, it comes with several accessories. Here are the components of the Brother CS5055 sewing machine.
Presser feet (Overcasting foot, Button sewing foot, Blind stitch foot, Zipper foot, Buttonhole foot, Monogramming foot)
Accessory pouch: (3 bobbins, 3-piece needle set, Twin needle, Seam ripper, Screwdriver, Ballpoint needle, Extra spool pin)
Foot controller pedal
Operation manual
Quick start guide
Power Source
One thing about this sewing machine is that you will need a work area that is brightly lit when working. The sewing machine is built with an LED lighting that allows you to work even when sewing with dark fabrics. You can also use this light to sew at any time of the day. It comes in handy when you have to do some work and have little light available. The light also prevents you from straining your eyes due to low light conditions.
The sewing machine is powered by electricity, and you will need a power source to connect it when working.
Dimensions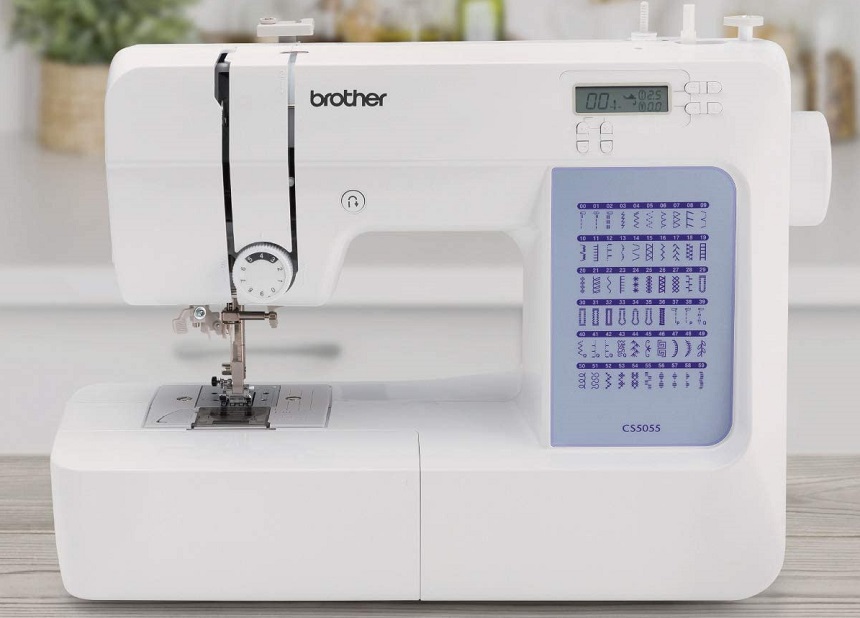 The dimensions of the Brother cs5055 sewing machine are 16.26 x 6.65 x 12.21 inches which means you don't need a lot of space to work with your sewing machine. This portable sewing machine can fit conveniently on your dressing table. You don't need to carry it attached to any work table to work with it conveniently. You can move it around and even use it in tight spaces. The Brother sewing machine's compact size is a huge benefit because it allows you to work from any location at any given time.
Weight
The Brother CS5055 sewing machine is very light in weight. It weighs around 10.65 pounds which makes it a convenient travel companion. You can carry it around to any place. It also has an ergonomic handle for easy carriage. The sewing machine comes in handy when you need to do a quick stitch, and even though it can't take heavy work, it can still do a little bit of serious sewing. However, this Brother machine does not come with any special case; you will need to get a tote to carry it with you when you are taking the sewing machine out.
Warranty
This sewing machine is built to last and, if handled properly, is durable. Brother made the CS5055 sewing machine with high-quality parts. Even when working at its maximum speed of 850 stitches per minute, it barely moves. This sewing machine falls under the limited 25-year warranty like most sewing machines. The essence of this warranty is to ensure that all the parts that arrive with the sewing machine are working properly. However, the electronic component of the sewing machine has only a 2-year guarantee, but the chassis is the one insured for at least 25 years after its purchase. Most people use this sewing machine without experiencing any issues because the parts are made of high-quality materials.
PROS

CONS

Cheap for people on a strict budget

Easy to read the user manual

Easy mobility and suitable for travel

Great for beginners learning

Quiet sewing machine with low noise

LED lighting to work overtime

Can see thick fabrics

Multiple pre-programmed stitches

The machine breakable plastic parts

LED light is not bright enough

Insufficient storage partition

Not useful for experts
Conclusion
When looking for a fancy sewing machine, one might worry about the machine's durability, but this is not the case with the Brother CS5055 sewing machine. It is functional and long-lasting, and like every other brand of Brother sewing machines, you would enjoy using your Brother CS5055.
This easy-to-use sewing machine will get you through the beginner stage of sewing. It is also great for teaching instructors who need to put their students through training on an easy-to-use sewing machine. This Brother cs5055 review has covered everything you can learn about this sewing machine. If you are on a strict budget, you should get this sewing machine.