If you plan on getting a Brother sewing machine on a budget and one that will give value for money, we recommend you look at the Brother CP60X sewing machine. Brother is one of the best companies known to make innovative industrial and household sewing machines. The Brother CP60X sewing machine is great for beginners and has nice stitches.
In this Brother CP60X review, we will show you everything you need to know about this computerized budget sewing machine. Why it is a best seller and all the amazing features you get when you use this sewing machine.
Read on to find out more!
Specifications
Dimensions
12.2 x 6.65 x 16.26 inches
Warranty
25-year limited, 5-year on electronic parts
Brother CP60X Sewing Machine Review
The Brother CP60X sewing machine is a fantastic sewing machine for beginners. It comes at an affordable price and with functional features like its pre-programmed stitches, automatic threader, presser foot and excellent feed system. We will be looking at each of the features of this Brother brand in details to help you decide if this sewing machine is suitable for you.
Overall Sewing Performance
Today, many people prefer computerized sewing machines because they save half the time you would spend sewing on a manual sewing machine. The Brother CP60X is no exception to this as it delivers modern features at its very best. If we are to determine the performance of this sewing machine, we will have to look at its overall performance, from its design to its functionality.
The Brother CP60X sewing machine comes in a modern design, and part of its appeal is in its easy-to-read buttons. As a newbie, it won't be difficult finding your way around this sewing machine. You can access the threader, its pre-programmed stitches, one-step buttonhole and other impressive button functions. This Brother sewing machine comes in a unique strong metal frame and is very efficient. The sewing speed is great, and you will complete your sewing projects a lot faster than you expect.
Ease of Use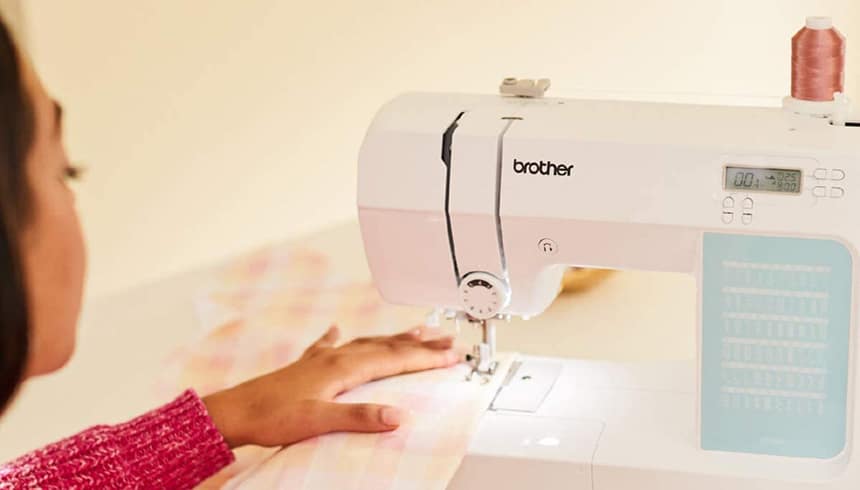 The Brother CP60X sewing machine is one of the most user-friendly designs of the Brother brand. You don't need to have any special skill to operate this sewing machine. Even if you are more familiar with manual sewing machines, this computerized sewing machine wouldn't be a problem. Every instruction is straightforward, and the buttons are easily identifiable. You also won't have a problem taking this sewing machine outside your home. The machine is lightweight, and you can easily take it with you to your sewing classes.
Sewing Speed
At a sewing speed of 750 stitches per minute, this sewing machine is surprisingly noiseless. The speed is quite good since it isn't designed for heavy-duty tasks. You can use it in your home at night without disturbing your family's sleep.
Built-in Stitches and Buttonhole Styles
It also comes with 60 inbuilt stitches for your sewing projects. The stitches can easily be adjusted depending on what you need. You can use it to create amazing designs on your fabrics. Beginners learning to sew will find this feature convenient because they won't need to learn to do complicated stitches.
The pre-programmed stitches are perfect and properly aligned. With this sewing machine, you can make stitches for your quilts, decorations, and everyday sewing jobs.
The CP60X sewing machine also comes with 7 buttonhole stitches that allow you to make perfect sized one-step buttonholes. Whether you are a newbie or an experienced sewer, you can create any of the seven types of single-step buttonhole easily with the pre-programmed buttonholes. And this will save you time spent on punching buttonholes.
Lighting
This design of the Brother CP60X sewing machine also comes with an LED light which can be found on top of the sewing workspace. This light allows you to work conveniently in a dimly lit room or when working on dark fabrics.
Durability and Warranty
This Brother sewing machine is one of the best-sellers and for good reasons. One of which is durability. The metal frame is long-lasting, and its parts are sturdy. It can handle almost all kinds of sewing tasks. You can use the Brother CP60X sewing machine on both heavy and lightweight fabrics. The sewing machine also comes with a 25-year limited warranty on its external parts, excluding the computerized features. For the electronic parts, buyers get a 5-year guarantee.
Key Features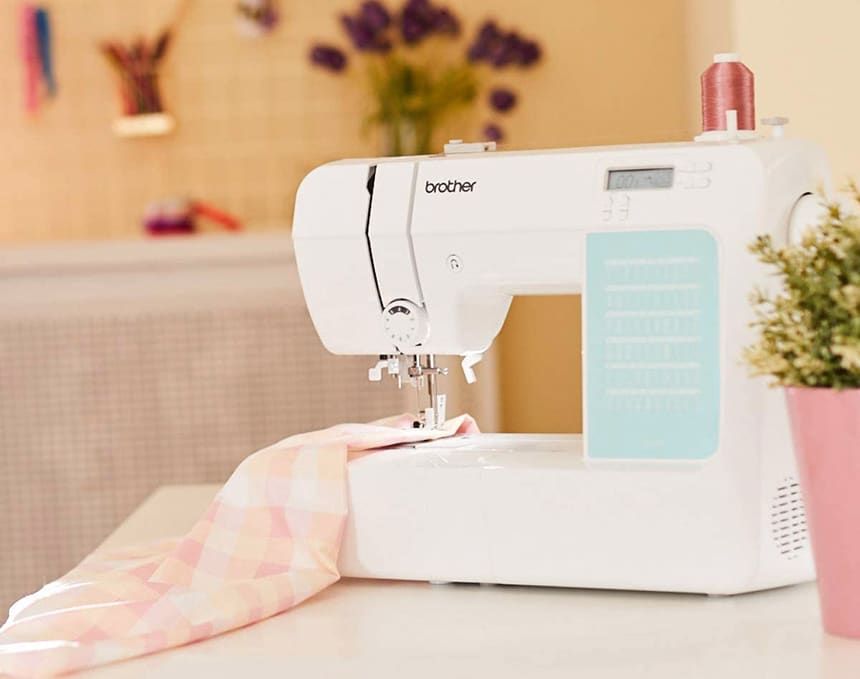 The Brother CP60X sewing machine comes with some fantastic features, each of these features will be discussed in this section.
Automatic Needle Threader
One part about sewing that takes a lot of your time is threading. When you have a sewing machine like this, you won't have to worry about threading your needle. The Brother CP60X comes with an automatic needle threader, and you can go about your sewing immediately. The automatic threader is easy to use, and you can do this by simply touching its lever.
The compact size of this Brother sewing machine makes it easy to work on large projects like blankets and even bedcovers. Working in tight spaces will be very easy with this offering. You have enough space between your sewing machine's needle and your arm. You can also make perfect stitches without errors since there are enough spaces to handle your job.
Free Arm and Free-Motion Sewing 
The Brother CP60X also comes with a fixed needle bar and an amazing feed system to go with its pre-programmed stitches. With these features, you can always keep your needle in place while you keep on stitching your fabrics. You can work on sewing smoothly without adjusting your needle from time to time like other sewing machines. The sewing machine allows you to use the drop feed and its free-motion when sewing hard fabrics like your jeans.
You will find the LCD screen of this sewing machine on the top right. It is a black and white screen that can be operated with its four buttons. The LCD control buttons allow you to select the number of stitches and the stitch length you will need for your sewing. When you press the stitch selection, you will see a letter appear on the screen. This works along with the presser foot that comes with the sewing machine to get the best results.
Price Tag
Overall, this sewing machine is great, and it is what you need to get started with your craft. The best part about the Brother CP60X sewing machine is its price. It is affordable, and you can get it for as low as $180 or thereabout. This sewing machine is great for newbies wanting to learn the art of sewing. If you don't have a lot of money to buy the high ranged Brother sewing machines, you can get this sewing machine.
PROS

CONS

Fully computerized machine with variable speed controls
Effective start, stop and reverse buttons
60 in-built stitches for creative designs
Seven one-step buttonholes for your convenience
Handles both heavy to lightweight fabrics

No speed slider
Device is chunky
Conclusion
Now that you know everything about the Brother CP60X sewing machine, we hope that our review will help you decide if it's what you need. The Brother CP60X sewing machine is durable, and with its amazing features, you can create a lot of modern designs with your fabrics. The Brother CP60X is one of the brand's best budget sewing machines, and we recommend it for beginners and folks attending sewing classes. We believe that you would find this sewing machine functional, and it would make your work faster. It is also recommended for professionals who already are familiar with using sewing machines.